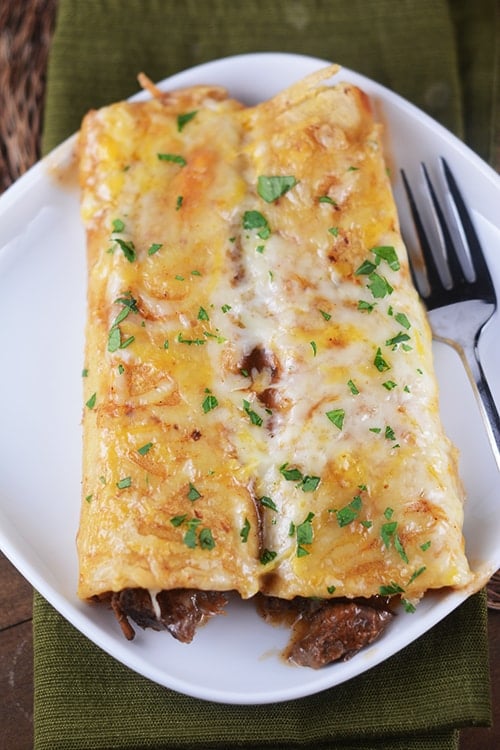 INGREDIENTS:
1 (2-3 pound) chuck or sirloin beef roast

2 cups low-sodium beef broth

2 tablespoons apple cider vinegar

1 cup (8 ounces) salsa

1 teaspoon ground cumin

1 teaspoon chili powder

1 teaspoon onion powder

1 teaspoon garlic powder

1 teaspoon salt

1/2 teaspoon pepper

2 tablespoons cornstarch or flour

10 6- or 7-inch flour or corn tortillas

1 cup shredded sharp cheddar cheese

1 1/2 cups shredded Monterey Jack cheese

Fresh cilantro (optional)
INSTRUCTIONS:
In a 4- or 5-quart slow cooker, add the beef roast. Whisk together the broth, vinegar, salsa, cumin, chili powder, onion powder, garlic powder, salt and pepper. Pour over the roast, cover the slow cooker, and cook on low for 8-10 hours until the beef is tender and shreds easily.

Remove the roast from the slow cooker and place in a large bowl or shallow pan (like a 9X13).

Pour the mixture from the slow cooker into a saucepan and bring to a simmer. In a small bowl, whisk together the cornstarch (or flour) with about 2-3 tablespoons water (a bit more water if using flour). Whisk the slurry into the simmering liquid and cook, stirring constantly, until the mixture is thickened slightly, 4-5 minutes. Add additional salt and pepper to taste, if needed.